A service provided for women by women, promoting positive health and wellbeing, by offering a range of educational services, holistic therapies and mental health support.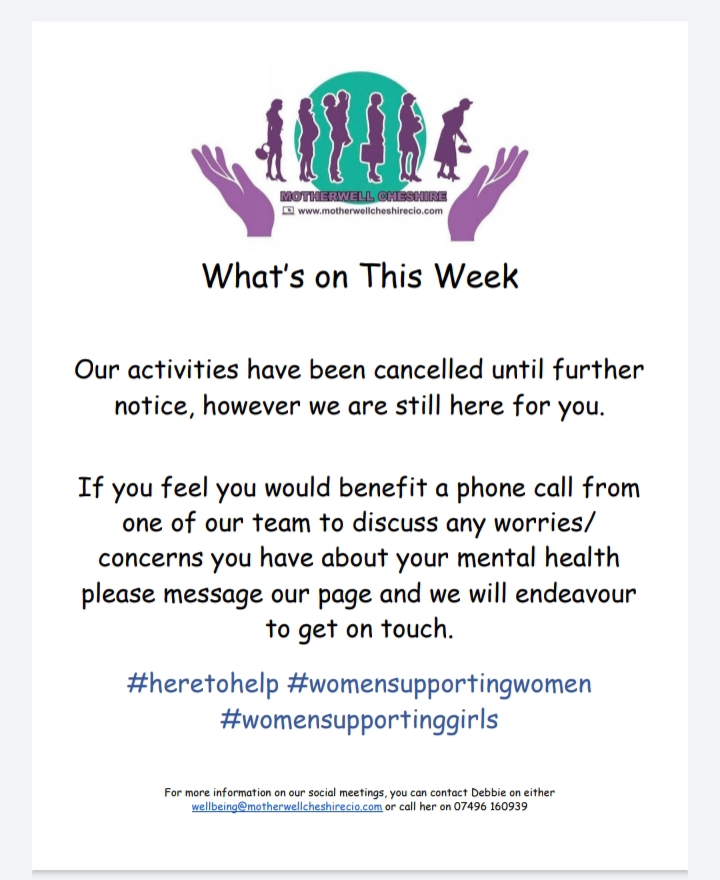 In response to the Coronavirus situation, and following Government advice, as from March 17th 2020, Motherwell Cheshire have made the decision to cancel all Wellbeing activities. Additionally as from 23rd March 2020, all our counselling services will be conducted via our online and telephone facilities.
We have very vibrant and active support groups via our Facebook community and we encourage all females to make use of these during this time. Debb, our Wellbeing Coordinator, will be online throughout the day to offer emotional support and advice.
We will also be offering telephone support to those who are feeling lonely and isolated; we want to continue the great support our Wellbeing groups offer when we meet up but in a slightly different way.
If you would like a call please TEXT 07496160939 (please do not call this number).

Please remember this is not a crisis support line. Please also remember we are a small team wanting to help where we can; we have a great Motherwell community and want to continue to thrive and grow despite the unprecedented time we are currently in.
Motherwell Cheshire has been empowering women on their mothering journey since 2015.
Led by Kate Blakemore, a passionate women's health advocate and counsellor, Motherwell is run by women, for women. Our specialist team are experts in mental health.
Our mission? To bridge the gap in support services for women's wellbeing across Cheshire.
Working within the community, we are active in some of Cheshire's most deprived areas. Women come to us for a range of reasons, via referrals from social care, health visitors, midwives and GPs.
Through our inclusive approach we build resilience. We help mums deal with the past through counselling, and the present through support work.  We help women look to the future though intergenerational mentoring.
This method has seen even the most disengaged mums become confident and self-reliant again.
Our fundraising is crucial in enabling us to make a difference to women's lives. To gain a sense of belonging and purpose.
Motherwell's service is built on women supporting women. Volunteers are trained to become successful mentors or peer support champions. A business model that has proved highly sustainable.
In just 5 years, we have grown from a team of 3 to 8 employed staff, with 23 volunteers.
Our long-term vision, is to open a Women's Centre in Crewe and Winsford.
A place of comfort and encouragement, where every mum can truly receive the support she needs.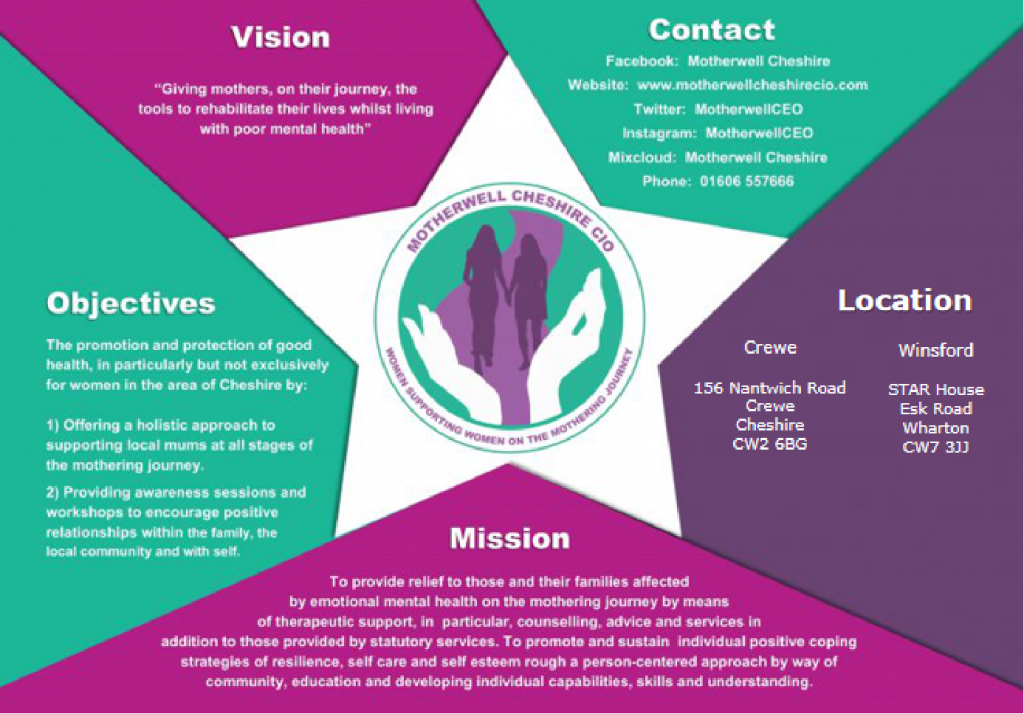 Supporting every motherhood journey
Kate Blakemore, Founder of Motherwell Cheshire & Trainer, Counsellor & Speaker
Kate is the founder and CEO of Motherwell Cheshire; Kate heads up all the day to day charity operations as well as working with the Board of Trustees to implement the 5 year strategy. 
Kate works with local and national funders to generate funding for the charity as well as working closely with the local Clinical Commissioning Group, NHS and Cheshire and Wirral Partnership to identify the needs of local women and girls in order to implement clear referral pathways for statutory services into the Motherwell services.
Kate is also the founder of the Crewe and Winsford Women's Days that take place annually in line with International Women's Day and in 2020 sees the introduction of an additional event in Ellesmere Port. The events bring together all women's services, women in business and women speakers to celebrate and Inspire the local community.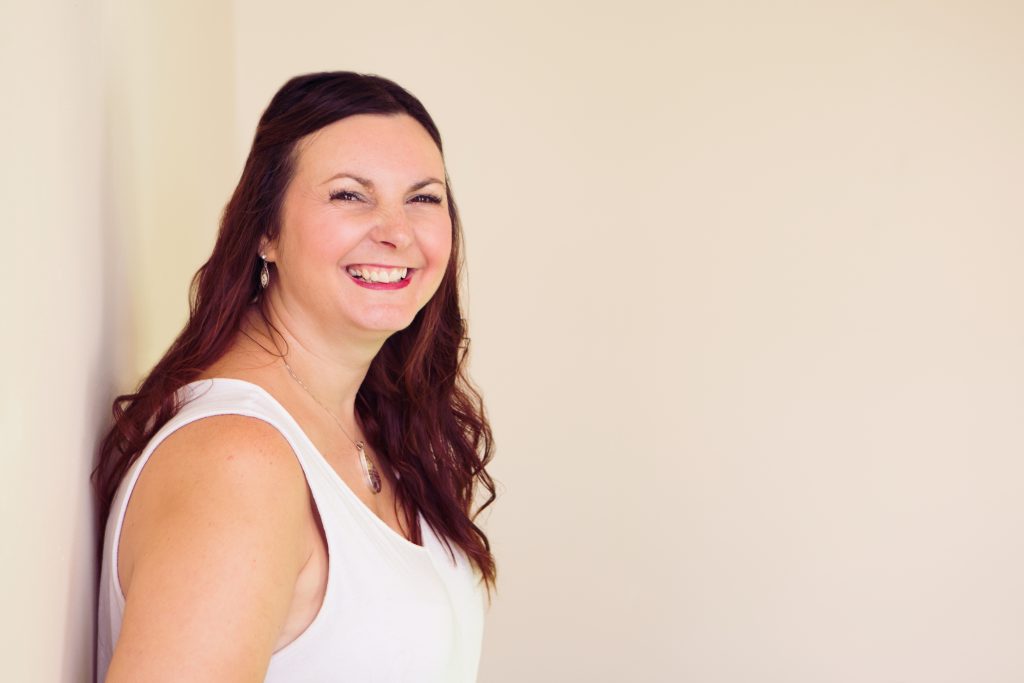 Kate also hosts her own radio show on 107.9fm This is the Cat, with her show "The Motherwell Show", where each week Kate invites guests to talk about topical issues around Mental Health. 
Kate is also a counsellor and trainer and is a passionate advocate for mental health and she has her own website www.kateblakemore.com should you wish to get in touch. 
Motherwell's mission is to provide accessible support for every mum. 
That's why, as far as possible, we aim to provide our services free of charge.
Our work is also supported through fundraising events throughout the year with all profits invested back into the services we offer.
We have several partnership and event sponsorship packages available.
If you would like to discuss how you can support Motherwell's work in empowering mums, please contact us.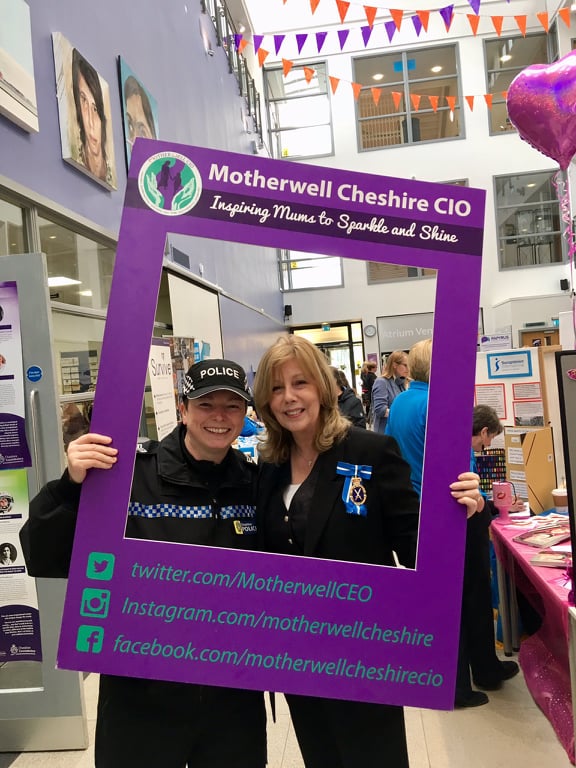 International Women's Day 2019
International Women's day!
Women from across south Cheshire are set to celebrate International Women's Day 2020 with events of inspirational female speakers in Crewe, Winsford and Ellesmere Port. 
"Too often people experience difficulties in accessing services – whether it is through not knowing they exist, or feeling that it is a sign of weakness to ask for help – and that is why events such as this one are so important. It provides a safe place for people to come together, to share their ideas and experiences in their own way and access much needed support in a relaxed and light-hearted setting; and that can only ever be something good."
Project numbers January - December 2019
Bright Stars volunteer mentors trained
Stay up to date on charity news & events, read stories and get inspired!