Counselling is a way to explore your thoughts, feelings and concerns with the support of another person in a confidential place. The counsellor will listen to you, offer support and help you to understand your feelings. Counselling provides a place for you to explore ways to make changes in your life which can lead to more positive well-being. You should be able to talk about whatever you feel you need to in the sessions. 
For example, it can be a place to simply offload, work towards a goal or explore more complex thoughts and feelings.
Are you feeling low, overwhelmed or anxious? Do you feel like you have no-one to turn to?
To access our services you can either self-refer or ask a support worker to refer you. Our services include 1-2-1 counselling sessions, a six-week programme, peer support and creative support groups.
Sessions take place with our highly trained professionals who will support you and your family every step of the way.
Our counselling sessions are available by appointment only and take place at Motherwell HQ, Nantwich Road, Crewe and STAR House, Winsford.
If you would like more information about accessing our services please email referrals@motherwellcheshirecio.com or call our referrals helpline on Tel: 01606 557666
Referral Criteria – Area Remit
Counselling – Crewe and Winsford (CW1, CW2 and CW7)
New Life and Me – open to Crewe, Winsford and surrounding areas (see below)
Mentoring – Crewe and Winsford
Surrounding areas:
Crewe (surrounding areas) – Nantwich, CW5; Sandbach, CW11; Middlewich, CW10; Tarporley, CW6.   
Winsford (surrounding areas) – Northwich, CW8 & CW9; Middlewich, CW10; Tarporley, CW6.                 
We have updated our WellBeing program in light of the current COVID 19. 

If you want to connect with us on our FACEBOOK pages and join our community of women in sharing experiences, please send a FRIEND REQUEST to Debbie Motherwell Cheshire CIO.
MUMS uniting MUMS is about empowering women to support themselves and other women. Supporting each other on the mothering journey. Each stage has its on difficulties and our groups help support you to manage your emotions as you enter different stages of the mothering journey.
NEW LIFE & ME
For mums with children up the age of approximately 2 years. Creche available at the Crewe groups.
By the end of this 7 week course we go away with:
An awareness of coping strategies to manage  your anxiety and depression.

Techniques to help to build on self belief and self esteem Recognise the positive changes in yourself.
The 7 weeks will consist of:
1) Expectations versus reality of Motherhood
2) Parenting styles
3) Our support networks
4) Managing our emotions
5) Effects on our relationships
6) Increasing our self esteem
7) Meet our mentors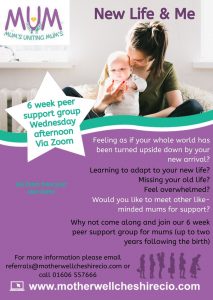 MINDFUL MUMS
This group is for mums balancing work life balance or those thinking about going back to work but unsure how they will balance everything. We will also support you with looking for childcare and your rights as a mum when working
By the end of the 6 weeks you will leave with:
Coping strategies to provide you with a work/ life balance.

Understand the importance of self care

 Recognise the importance of a positive support networks
The 6 weeks course will focus on:
 1) Introductions/ expectations of the group
2) Bullet journalling
3) Managing our emotions
4) Support networks
5) Effects on our relationships
6) Relaxations techniques
7) Meet our mentors
Whatever stage of the mothering journey you are at, we are here to support you, don't suffer in silence.
Email referrals@motherwellcheshirecio.com or call our referral hotline on 01606 557666.
Do you want to sign up to work through your own personal Postnatal Wellbeing Plan?
This is online, but with your own workbook to plan your very own Postnatal plan, which we will send you in the post. It can be worked through at your leisure.
This is ideal for anyone pregnant or with a baby up to 3 month's.
Please email wellbeing@motherwellcheshirecio.com to sign up.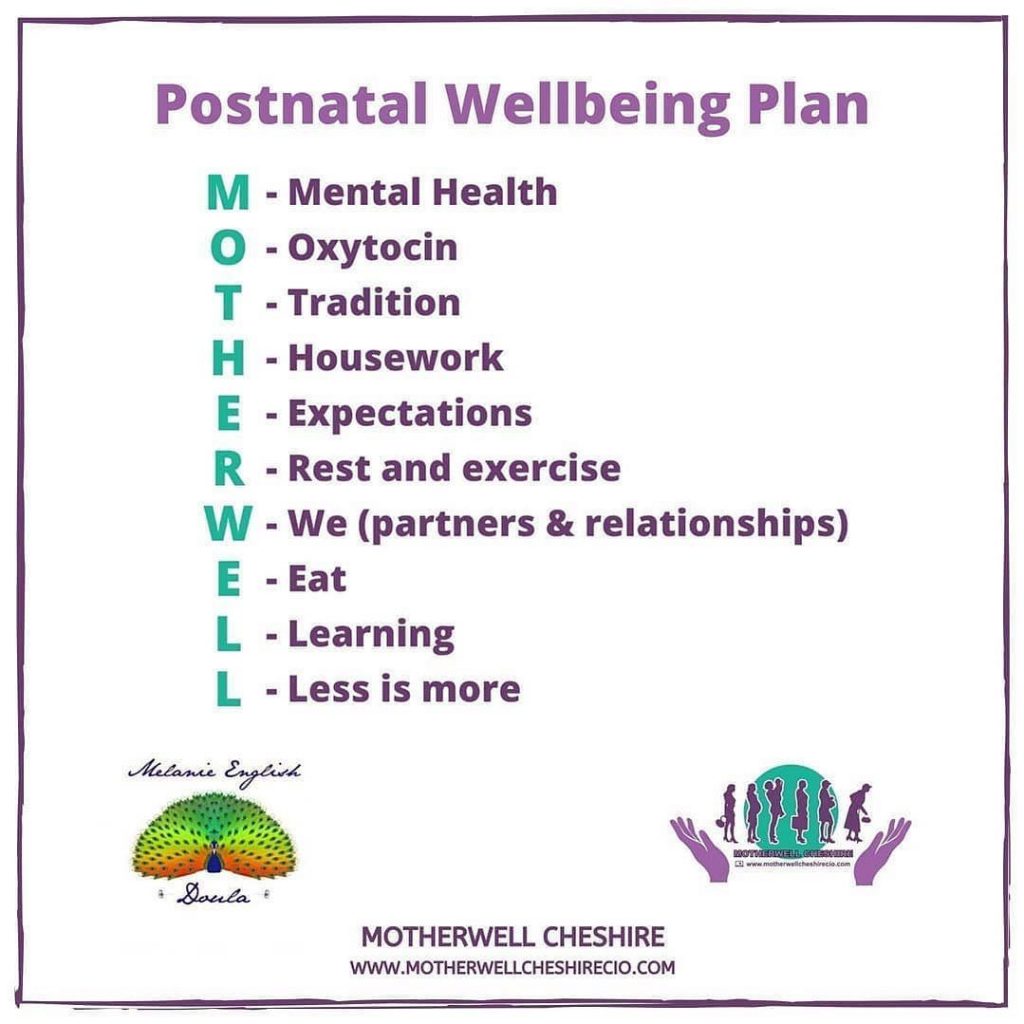 How we have helped our clients
Back in 2015 I welcomed my first beautiful little girl into this world. I was only 18 and just like any new mum, didn't know what to expect from motherhood. I suffered from post natal depression which, unfortunately, went undiagnosed. I struggled through and got myself on a good path, I started college doing childcare and got pregnant with my second beautiful little girl who I welcomed into the world in 2018. Postnatal depression hit me again, but luckily this time I had the wonderful help of my health visitor who recommended and referred me to Motherwell's new life and me course. I am so grateful that she did, the course changed my outlook on not only motherhood, but life as well. I was going through a tough breakup with the father of my girls, I was not only adjusting to life as a single mum, but to a life I had never imagined leading. I went from having someone I could rely on for help when I was feeling low, to having to do it completely alone. A household that went from always being full, to having time on my own when the girls were with their dad. I didn't know what to do or how to cope. Attending the course allowed me to talk and discuss all the emotions I was going through. I realised that how I was feeling was normal, and that it was ok to feel how I did. Talking to the ladies that ran the course along with the other mothers who attended was an incredible help. I went from feeling helpless, to feeling like I could achieve anything. Since doing the course, I have applied to go to university to become a primary school teacher. I have managed to mend broken relationships with family and the father of my children, and overall I am in much better place mentally, and I know I could not have got to this point without the help of Motherwell.