During the present Corona Virus outbreak we are unable to deliver our usual Wellbeing Programme. However if you want to connect with us on our FACEBOOK pages and join our community of women in sharing experiences, please send a FRIEND REQUEST to Debbie Motherwell Cheshire CIO.
You can then be added to these facebook groups:
Motherwell Mental Health and Self Care Support Group
Gathered Voices Women's Choir
Motherwell Crewe Reading Group
Motherwell Creative Writing Group
Winsford Reading Group
We also set up a LIVE CHAT, WEEKLY with the choir and MONTHLY with both reading groups.
https://www.facebook.com/debbie.motherwellcheshirecio
Motherwell Cheshire runs a social prescribing wellbeing activity planner, that is open to all women and girls in the area of Crewe, Winsford and surrounding areas. 
There is no need for a referral and no need to have a diagnosis of a mental health condition, we just want as many women and girls to join us as possible. 
Our Wellbeing Coordinator attends all the activities, so if you require additional support please do email: wellbeing@motherwellcheshirecio.com and Debb will be happy to meet you before hand. 
Our Wellbeing Programme is to break isolations and to encourage friendships in the local community. All the activities that we run are proven to help support individuals with their mental health and wellbeing.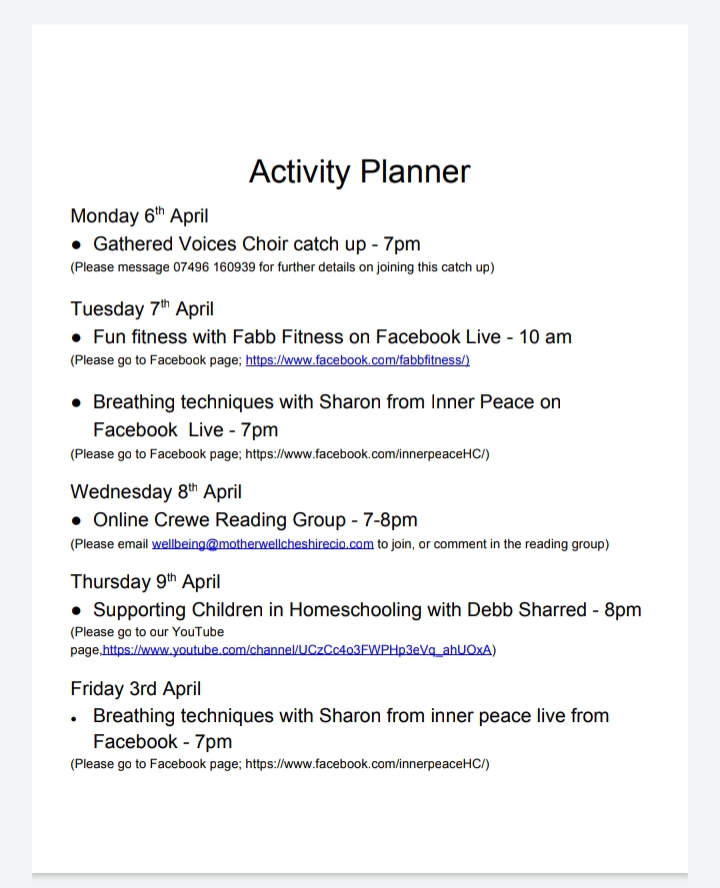 What's included in the programme?
See our images below from different activities within the WellBeing program.