Are you feeling low, overwhelmed or anxious? Do you feel like you have no-one to turn to?
Perhaps you're trying to come to terms with a traumatic separation, stressful divorce, or a deeply upsetting life event such as a difficult labour or birth, miscarriage or still birth? Or are you supporting a child with their own mental health illnesses? 
Counselling is a way to explore your thoughts, feelings and concerns with the support of another person in a confidential place. Our counsellors will listen to you, offer support and help you to understand your feelings. Counselling provides a place for you to explore ways to make changes in your life which can lead to more positive well-being. You should be able to talk about whatever you feel you need to in the sessions. 
To access our services you can either self-refer or ask a support worker to refer you. 
Sessions take place with our highly trained professionals who will support you and your family every step of the way.
Our counselling sessions are available by appointment only and take place either online or at Motherwell HQ, Beech Drive, Crewe and New Images, Winsford.
If you would like more information about accessing our services please email referrals@motherwellcheshirecio.com or call our referrals helpline on telephone, 01606 557666.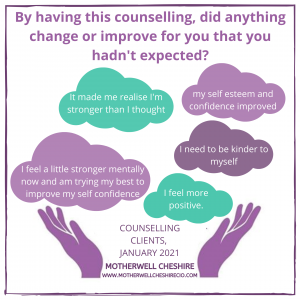 Please find below our counselling criteria: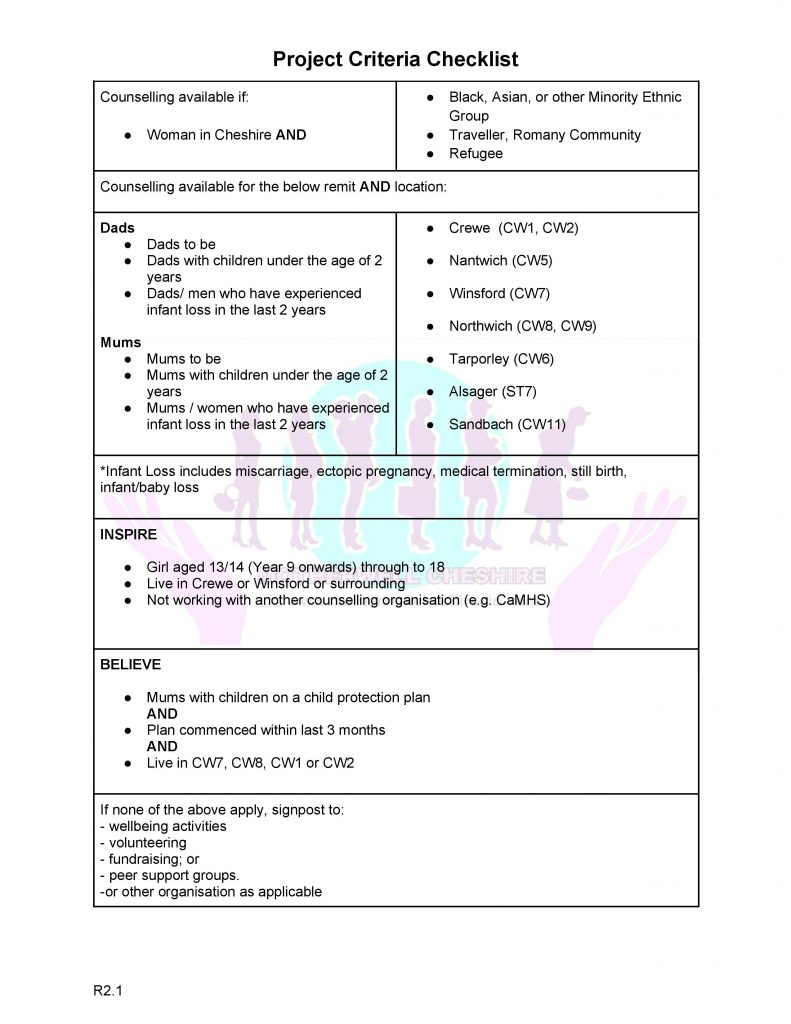 These sessions are for those who are not yet ready to talk publicly about their  infant loss. All of our counsellors are accredited in infant loss and want to listen to your experience.
If you have experienced infant loss we can support you through our Cherry Blossom counselling services. You can self refer in by calling one of the Motherwell Team on 01606 557666 or email referrals@motherwellcheshirecio.com.
Please click here to find out more about Cherry Blossom.
Are you looking for counseling through Motherwell? Do you live in the Winsford area? Are you a mum with a child under the age of 2? 
If so, we can support you! You can self refer in to our services either by calling one of the Motherwell Team on 01606 557666 or email  referrals@motherwellcheshirecio.com.
Our affordable counselling is open to the whole of the local community. You do not need to be referred for this service within Motherwell.
Benefits of affordable counselling include:
Access to a counsellor within 2 weeks
Appointments at a time that suits you
No commitment to counselling every week
Open to both men and women ( over 16 years)
Evening appointments available
Experienced counsellors
Sessions cost £25