International Women's Day 2023 was hailed a big success after drawing many visitors to Winsford Lifestyle Centre on Saturday.
The event, organised by health and wellbeing charity Motherwell Cheshire, celebrated the achievements of women in sport with Team GB skeleton racing star Laura Deas performing the opening ceremony.
There were high energy dance and exercise displays by Brio Leisure's Body Jam and This Girl Can members as well as a chance to see Winsford Town Ladies Football Team and Winnington Park Ladies Rugby demonstrate their ball skills.
Other attractions included belly-dancers, choirs and vocalists and more than 50 stalls to browse offering fashion, floral art, jewellery and craft as well as little luxuries for the home such as plants, candles and pictures.
Many local charities and campaigns were represented including Cheshire Police Safer Streets, End Sexism in Schools and Cheshire West Inspirers tackling issues such as 'Pink Tax' on women's products.
VIP visitors included civic dignitaries, Cheshire Police and Crime Commissioner John Dwyer and the High Sheriff of Cheshire Jeannie France-Hayhurst.
Motherwell Cheshire founder Kate Blakemore said: "It was always my ambition to make Women's Day a special event in Winsford with a wide range of women-centred charities and businesses all in one place showcasing the great work they do locally.
"Saturday was an opportunity to recognise the amazing things women do each day and have a good time with their families. We were able to highlight the contribution women make to the local economy and recognise the achievements of women in sport.
"Winsford Lifestyle Centre was the perfect venue as it inspires so many women to achieve their fitness goals and improve their body confidence. 
"We were thrilled to welcome Laura Deas who has excelled at one of the world's toughest of sports and to see so many people get into the spirit of the day and join the fitness sessions."
Laura, 34, from Wrexham, made history by becoming the first Welsh woman to win a Winter Olympic medal, bronze in South Korea in 2018.
Her sport involves racing headfirst on a sled at incredibly fast speeds and visitors to the Lifestyle Centre were keen to meet her and see her medal close up.
She said: "It's wonderful when women work together to empower and raise each other up. Motherwell is behind so many events and initiatives to make lives better for local women so I was delighted to be their guest on International Women's Day."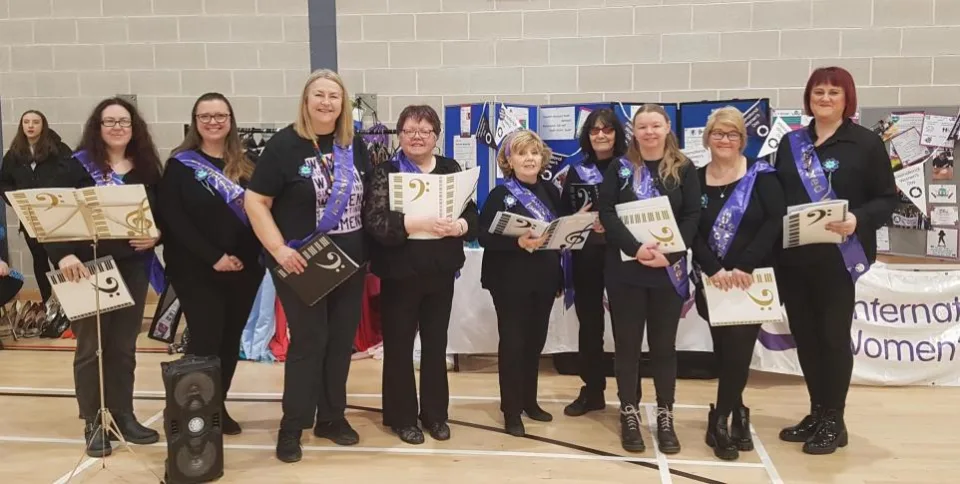 The charity, founded eight years ago to empower women and offer support to vulnerable mothers, has been behind Women's Day celebrations in Cheshire for several years.
Events in Crewe and Winsford have brought together local businesswomen, charities, organisations and community groups to showcase the support and information available across the region and for families to get together to try different activities.
Saturday's event attracted sponsorship from Compass Minerals in Winsford and So Coach Training in Northwich.
Meanwhile Motherwell Cheshire is appealing for donations to its Period Wellbeing Packs and Community Share Hub clothing recycling schemes particularly active wear such as sports bras and trainers and football boots.
For more information go to motherwellcheshirecio.com