Our Wellbeing Programme provides support to the local community through our wellbeing workshops and groups.
The group is a place to meet new people and to share worries, anxieties and most of all our achievements. The group is not limited to service users of Motherwell and is open to anyone.
Each day we provide a different topic or support for you to be involved in, free interactive groups. Our wellbeing coordinator Debbie is here for any questions you may have on the program.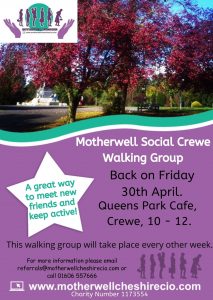 Starting back FRIDAY 30th APRIL.
Come and join us at our park walk social group, starting again at Queens Park in Crewe at 10 o'clock.
COVID restrictions are in place and we ask all who attend to follow government guidelines.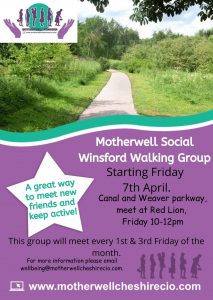 Our Winsford Park walk is back on Friday 7th April, meeting at the Red Lion car park at 10 o'clock.
COVID restrictions are in place and we ask all who attend to follow government guidelines.
Motherwell Cultural Connect Group (MCC)
Our Motherwell Cultural Connect Group. (MCC) 
The group is formed to help support Multicultural women/ girls in our community who are going through difficult situations, Mental health, Abuse, and bereavement. 
The group is a safe place where we often come together every fortnightly on our Motherwell community rooms on Facebook to discuss issues that affects us as women/girls of colour, place were issues of our everyday real lives challenges of women/girls of colour are discussed and finding solutions around it. Most of the issues previously discussed include Fear, Anxiety, Stress, and the impact of it all on our mental health and wellbeing as women/girls of colour in our community. 
To join this group  please head over to Our Motherwell Community group on Facebook, you will have to then go into 'rooms' on this group, you will see listed MCC room and please press join. This group is held fortnightly on a Monday. If you are not a member of Facebook, you can still access the group, please contact IJ. 
If you want to speak to Ijeoma before joining this group, please email her on ijemoa.Ezeda@motherwellcheshirecio.com. 
Please go take a look at her video over on our YouTube channel by clicking here.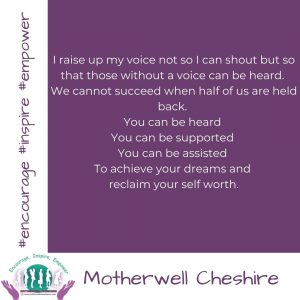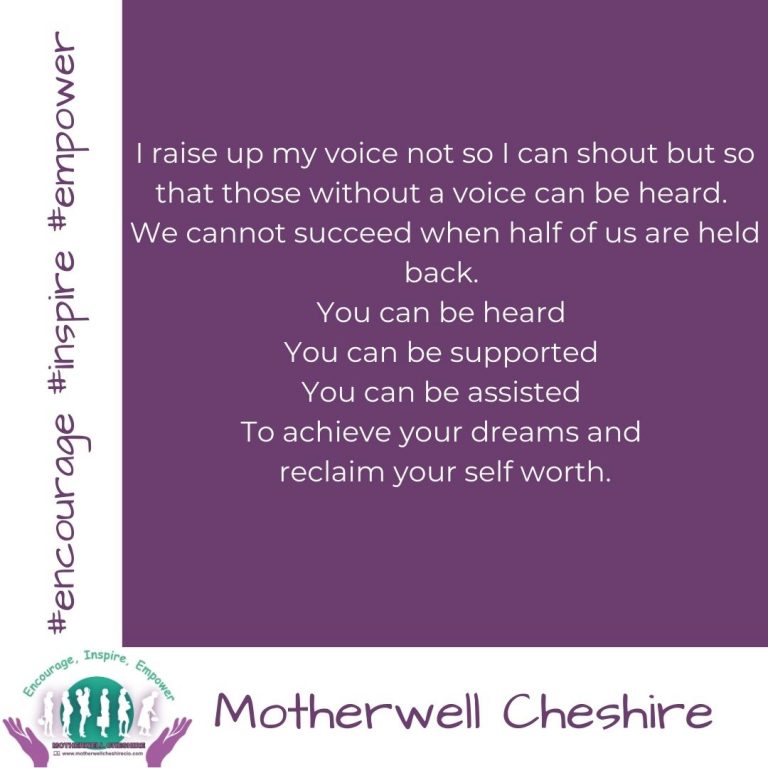 Throughout summer we will be running four FREE workshops that link in with our #nomore campaign.
Our #NOMORE campaign is to raise awareness, start conversations, influence change, and offer talks and emotional support to women, girls, and parents on the following topics: 
Rape  / Sexual Abuse / Consent 
Healthy Relationships
Safe dating online & on dates
County Lines / Exploitation 
The below workshops are aimed at parents, to provide them with information and guidance on how they can protect and support their children.
To book onto the below workshops, please click here.
If you have any questions on our workshops or the wellbeing program, please contact our WellBeing lead, Debbie on either, wellbeing@motherwellcheshirecio.com or text/call on 07496 160939.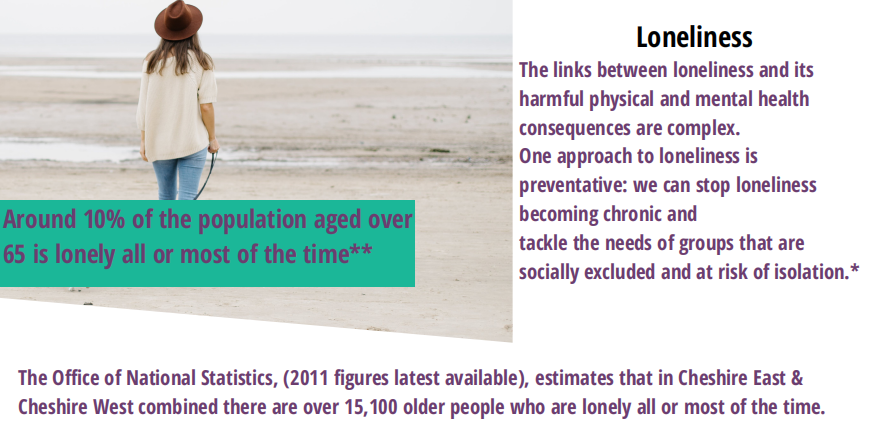 See our images below from different activities within the WellBeing program.
calls made from our Befriending service, which was set up within days in March 2020 and ran for 32 weeks.
Attendees at wellbeing groups in the year to Sept 2020
Kindly funded by