Our Wellbeing Programme provides support to the local community through our wellbeing workshops and groups.
The group is a place to meet new people and to share worries, anxieties and most of all our achievements. The group is not limited to service users of Motherwell and is open to anyone.
Each day we provide a different topic or support for you to be involved in, free interactive groups. Our wellbeing coordinator Debbie is here for any questions you may have on the programme.
Our Wellbeing Programme is here to bring the community together, to help combat isolation and create friendships.
The programme has a variety of activities, our weekly park walk that takes place either over in Crewe or Winsford. Our Motherwell Choir, singing for wellbeing, our new choir mistress has proven a hit! Crochet workshops, reading groups and brew groups.
If you have any questions please contact Debbie on text: 07496160939 or email: wellbeing@motherwellcheshirecio.com.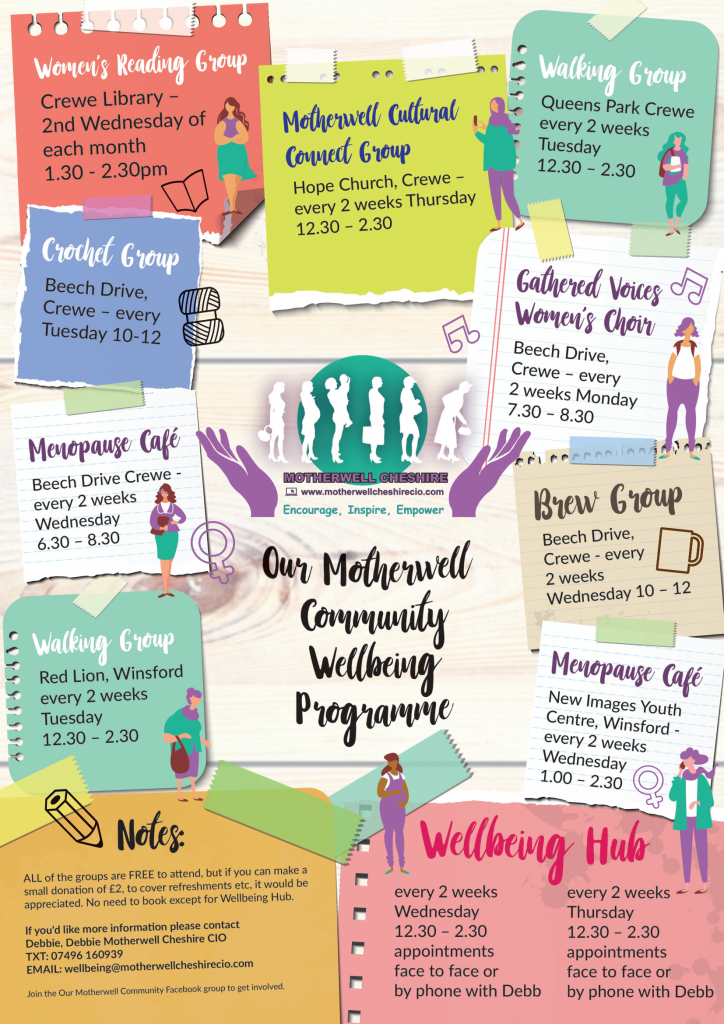 Our Wellbeing Groups are here to support all women in the local community. 
We aim to provide you all with a space to come and speak to like-minded women and find support and friendship.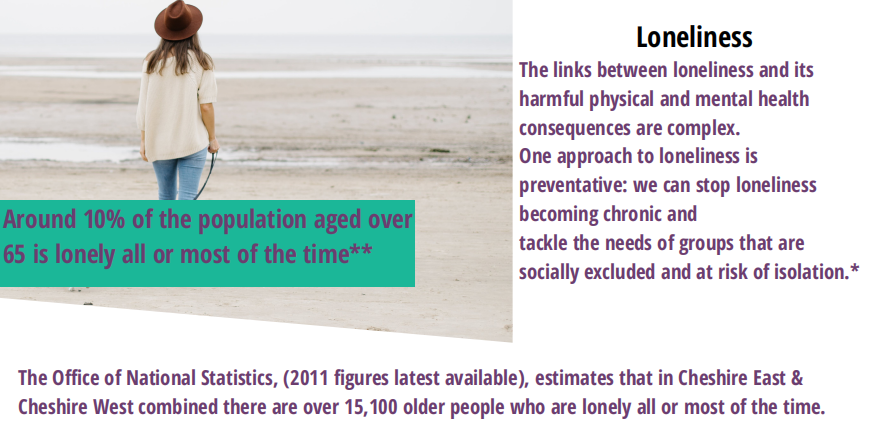 At a Menopause Café people, often strangers, gather to eat cake, drink tea and discuss menopause.
Our Menopause Cafés are offered:
In an accessible, respectful and confidential space
Open for all, regardless of gender or age
With no intention of leading people to any conclusion, product or course of action
On a not for profit basis
Alongside refreshing drinks and cake!
Venues: 
New Images Chatterbox Cafe, Nixon Drive, Winsford CW7 2HG
Every 2 weeks, 1-2.30pm
AND
62, Beech drive, Wistaston, Crewe CW2 8RG
Every 2 weeks, 6.30-8pm
We look forward to meeting you soon!
For further information, contact Debbie:
EMAIL: wellbeing@motherwellcheshirecio.com
TXT: 07496160939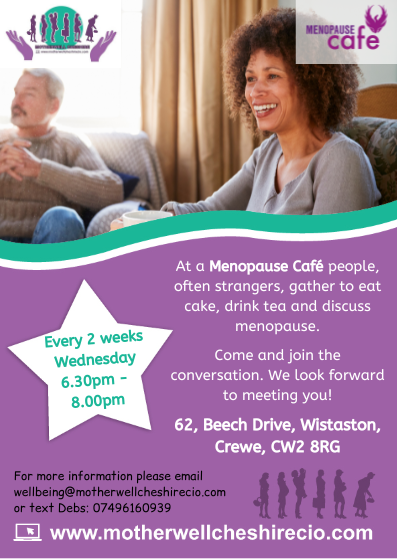 Motherwell Cultural Connect Group (MCC)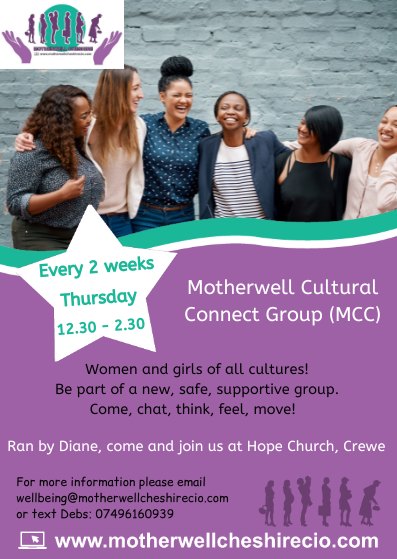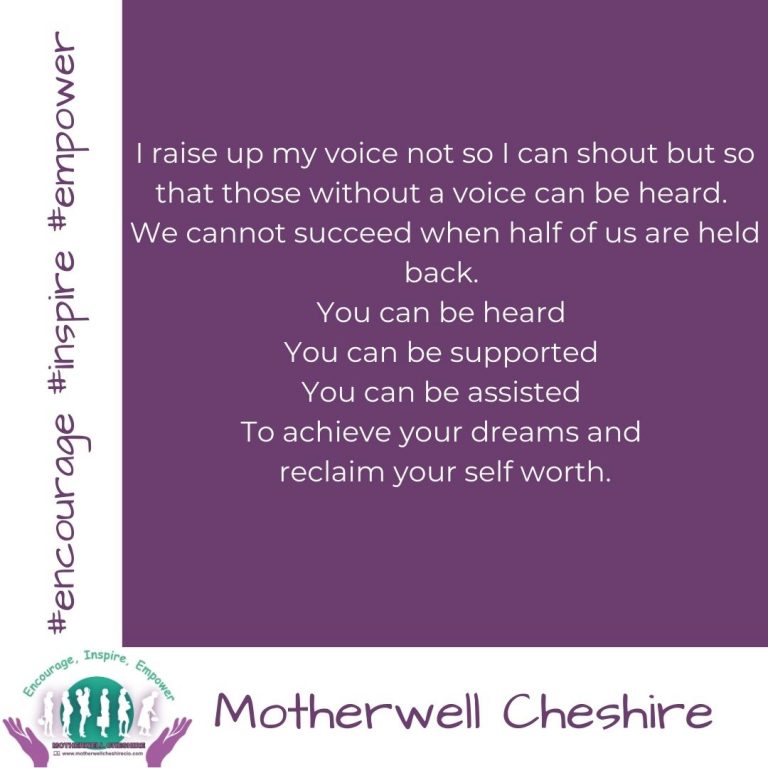 Our Motherwell Cultural Connect Group. (MCC) 
The group is formed to help support Multicultural women/ girls in our community who are going through difficult situations, Mental health, Abuse, and bereavement. 
The group is a safe place where we often come together every fortnightly on our Motherwell community rooms on Facebook to discuss issues that affects us as women/girls of colour, place were issues of our everyday real lives challenges of women/girls of colour are discussed and finding solutions around it. Most of the issues previously discussed include Fear, Anxiety, Stress, and the impact of it all on our mental health and wellbeing as women/girls of colour in our community. 
Please go take a look at her video over on our YouTube channel by clicking here.
Our group is facilitated by Diane:

I am a mother of 2 young men and have recently become a grandmother.  What a joy!
I grew up in Crewe, then worked as a professional dancer in London and abroad.  I still enjoy performing in local musical theatre groups as well as teaching dance.  After the birth of my second son I retrained as a primary school teacher with over 15 fabulous years of experience in both primary and secondary schools.  Always up for a motivational challenge, I completed a Masters Degree in Movement Therapy that informs my every day life and professional practice.  
Lockdown gave me the inspiration to start "Together We Dance", a local community group, bringing together people of all ages, abilities, cultures and ethnicities.  
Meet Deb our Wellbeing Co-ordinator
See our images below from different activities within the Wellbeing programme.
calls made from our Befriending service, which was set up within days in March 2020 and ran for 32 weeks.
Attendees at wellbeing groups in the year to Sept 2020
Kindly funded by