We have updated our Wellbeing Programme accordingly to reflect the latest COVID 19 guidelines.
Our Wellbeing Programme provides both online and face to face activities. If you want to connect with us on our FACEBOOK pages and join our community of women in sharing experiences, please send a FRIEND REQUEST to Debbie Motherwell.
Or come join the
Motherwell Community group
over on Facebook, the group is a place to meet new people and to share our worries, anxieties and most of all our achievements. The group is not limited to service users of Motherwell and is open to anyone.
We also set up a LIVE CHAT, WEEKLY with the choir and MONTHLY reading groups.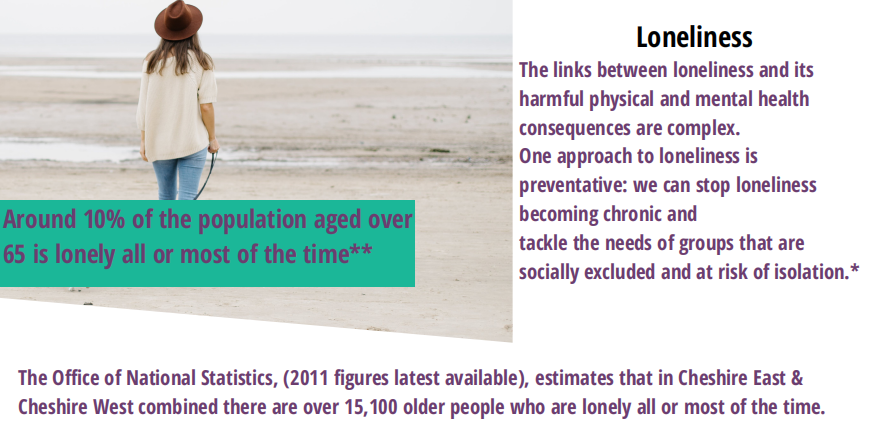 Motherwell Cheshire runs a social prescribing wellbeing activity planner, that is open to all women and girls in the area of Crewe, Winsford and surrounding areas. 
There is no need for a referral and no need to have a diagnosis of a mental health condition, we just want as many women and girls to join us as possible. 
Our Wellbeing Coordinator attends all the activities, so if you require additional support please do email: wellbeing@motherwellcheshirecio.com and Debb will be happy to meet you beforehand. 
Our Wellbeing Programme is to break isolations and to encourage friendships in the local community. All the activities that we run are proven to help support individuals with their mental health and wellbeing.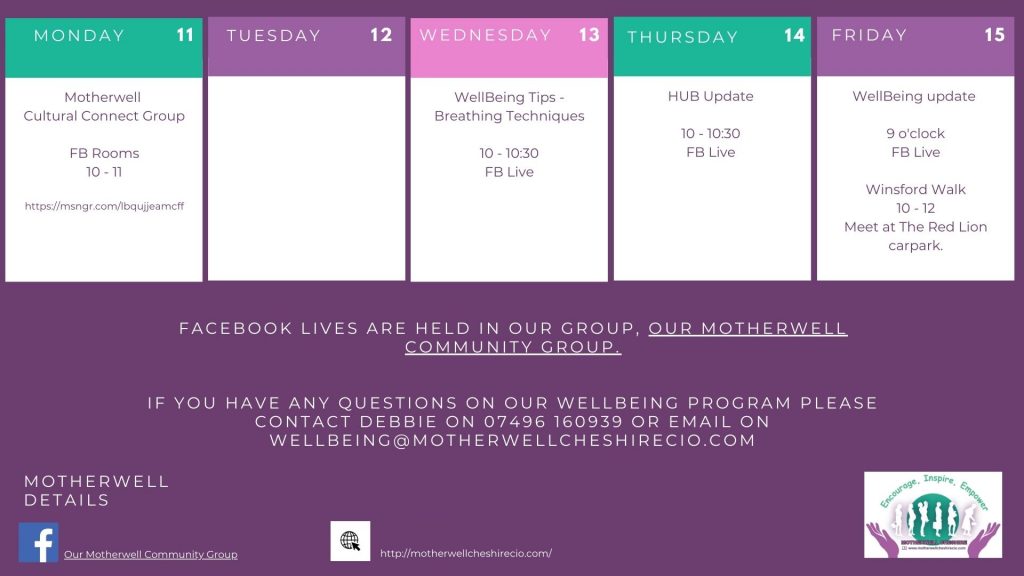 What's included in the programme?
It has been proven that singing improves health, happiness and mental wellbeing and relieves symptoms of anxiety and depression.
Our aim is to create a safe, fun and non-judgmental environment for you to make new friends, share experiences and join together as one voice.
The only thing we ask, is don't take it too seriously; we want you to make time for you, take time for self-care and enjoy yourself!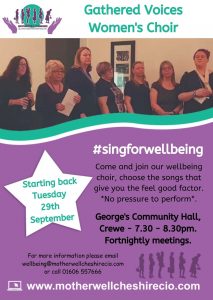 There are countless benefits to reading. Reading for pleasure can increase self-esteem, reduce symptoms of depression, help build better relationships with others, and reduce anxiety and stress.
By immersing yourself in a good book, you can be swept away to a world that is separate from yours, and therefore separating yourself from the dilemmas or stresses you may have.
Come along for a relaxing chat and reconnect with like-minded people whilst discussing the latest book of our choice!
Child friendly! ​
Exploring relaxation can help you look after yourself when you're feeling stressed or worried. The sense of wellbeing comes from within, and we provide a space where you can receive a range of deeply relaxing and soothing treatments from fully trained therapists helping you to re-discover that natural inner stillness and re-charge your emotional, physical and mental batteries.
A chance to relax and unwind, chat with our friendly staff and find out more about Motherwell and how we can help/support you.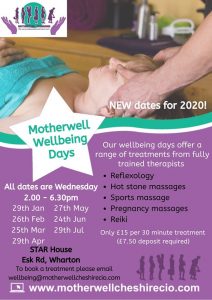 For more information on the treatments available at our Wellbeing Days – click here
See our images below from different activities within the WellBeing program.
Befriending calls between April to October 2020
Attendees at wellbeing groups in the year to Sept 2020
Kindly funded by