Motherwell Community Share Hub, Baby Bank and Edna Laundrette
Helping to reduce waste and to encourage a more sustainable way of living.

The Community Share Hub
Open every Tuesday and Wednesday, 12 - 2
54 Beech Drive, Wistaston CW2 8RG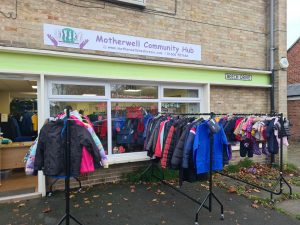 The hub started in 2019 as 'Crewe and Nantwich Uniform Exchange', a place for the local community to recycle and reuse no longer needed school uniforms. In October 2020 we opened Motherwell Community Share Hub, and the support services have continued to expand, our Baby Bank, Footlocker scheme and our support in local women's and girls sports groups with our period kits. 
Our sustainable, accessible to all scheme is here to help reduce the amount of items heading to landfill. The  provides a range of different services for ALL of our community with no questions asked. Reducing landfill and encouraging us all to #reuse #recycle and #rewear our pre loved items.
Our support starts with expectant or new mums vouchers, a scheme with the local midwives and health centres providing vouchers to these families, which in return supplies them with a packed Moses hamper with items for mum and baby.
Our Baby Bank provides like-new items to families, cots, clothing bundles, travel systems, prams, double strollers, 
Our hub stocks school uniforms, generic and branded items, stationery, and period poverty kits. And in addition, we have our fancy dress, and a community library rental service.   
Whatever you may need, we will try our best to help.
The Community Share hub is a sustainable scheme open to all, the hub is not ran by a means tested program, we are open to all, with a no questions asked policy. 
The hub is open on a weekly basis every Tuesday and Wednesday, 12 – 2, just like any Charity shop, it is ran by volunteers from your local community. All you need to do is pop on down and see if we have the uniform item you are in need of. Hours do vary over the holidays, with extended hours to ensure we keep up with demand, please make sure you follow us on Facebook for the latest news.
For any families who attend Underwood West Academy, we are proud to have our own satellite hub based on their premises, offering the same as our hub. We work together to ensure the community of this school has sufficient supplies of uniforms and baby items. Please contact the school directly if you are in need of any items, together we can ensure your needs are met.
We encourage all to come down to the hub and meet the team, and browse our hub, however if you are not able to make it to you can place a request for an order for collection, please email us on motherwellhub@motherwellcheshirecio.com. 
Please ensure you have sent all the information we need for example, 
school your child attends
age/size of clothing required
type of item needed , school uniform, trousers, skirts, football boots etc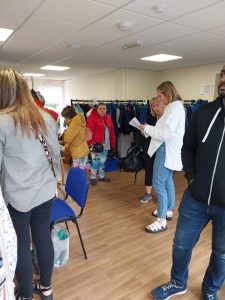 Amount of school uniform we have handed out up to now..
We stock primary and secondary school uniforms, branded items, and generic items for many of the schools in Crewe and Nantwich. Are items have been kindly donated by the local community to help with our sustainability pledge, we are here to promote a 'pass it on' culture.
With the cost of living prices soaring, we are wanting to help the ease of the cost of dressing an ever growing family. We all know how quickly children grow and with the average cost of a single uniform for a child is £101, these costs soon add up over the year.
The Community Share Hub can help promote a new pass it on culture, supporting one another and knowing we are saving items from going to landfill. Our no questions asked moto, wants to help encourage all to come down and see what items we have in that they can make use of.
We try our best to go into all the schools of Crewe and Nantwich, taking the hub to their families doorstep. If you work in any of the local schools and would like us to hold a pop up at your school, please email us at Motherwellhub@motherwellcheshirecio.com.
Period Dignity kits and Comfort packs
We continuously support young girls and women, either at school, youth centre, sports club or work place with breaking the stigma of our menstrual cycle. With around 1.8 billion people menstruate every month worldwide, meaning at a one given point each day, 800 million women and girls menstruate, comprising 26% of the global population.
We are wanting to encourage and start an open conversation about periods, how it affects us, how they can be irregular, how they can change our lives. These are the first steps towards breaking the barriers of period poverty. 
Our period dignity kits are here to support the local women's and girls sports teams. 
The period kits are here to support our young sports clubs, helping out at them 'oops a daisy' moments when our periods appear when we least expect them. The kits are there for the young women to pick up and take to use without any questions being asked.
If you play a sport for any local sports club please get in touch with us on our email: motherwellhub@motherwellcheshirecio.com.
We have recently joined partnership with Cheshire Womens Collaborations, together we are wanting to build further support and break the stigma of our menstrual cycles. Providing sanitary kits for womens toilets within the work place, these kits have stock of not just sanitary items, but deodrants, hair brushes etc.
 If you would like to support us with this partnership, please contact us on 
cheshirewomenscollaboration@gmail.com.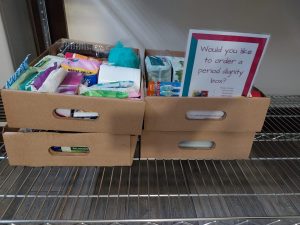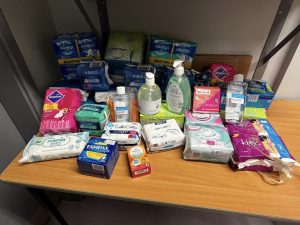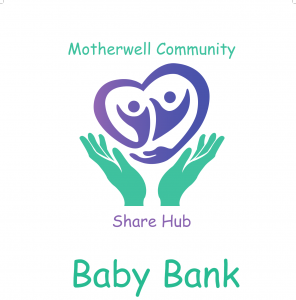 Our Baby Bank provides good quality new and used items for families.
This scheme is here to be a place for the local community to give back to others and share their no longer needed baby items.
Within the Baby Bank we have:
Toiletries for both mum and baby
Sanitary products
Baby hampers which include, mum and baby toiletries, nappies, etc
Baby Clothes
Larger items: moses baskets, prams, pushchairs, bouncer seats, cot mobiles, play mats etc.
DONATIONS (We currently do not need any donations of baby clothes.)
For our Baby Bank we accept:
Baby clothes, up to the age of 2 years
Cots / cot beds
Travel systems and strollers
Moses baskets
Playmats 
Nappies and wipes
All of the above please drop at  54 – 64 Beech Drive, Crewe CW2 8RG 
Our next Baby Bank event is on Wednesday 22nd November, 12 – 2 at 54 Beech Drive, Crewe CW2 8RG. Please note this is the last one of the year, our next event wont be until Wednesday 31st January. 
Our event is FREE to attend and is open to all, it works on first comes, first served basis.
Please note, the items we provide are here to support families who are in need of our help and believe in our ethos #reuse #recycle and #rewear.
We have stock items such as:
Sanitary products for mum
Nappies and wipes
Baby Clothes
Larger items: moses baskets, prams, pushchairs, bouncer seats, cot mobiles, play mats etc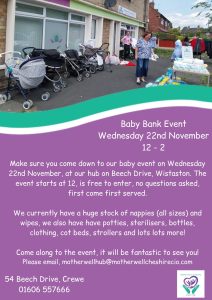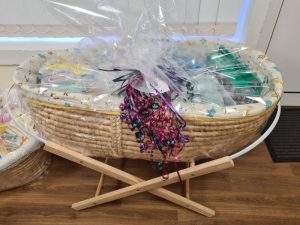 We are delighted to be working with the local health professionals in Crewe and Winsford with our New Mum hampers. 
These hampers are being handed out to expectant and new mums in the local community. The hampers are filled with items for mum and the baby, nappies, wipes, washing powder, lotions for both mum and baby, and lots, lots more.
Hampers handed out in the last 3 months!
Donations - What we accept..
Please always check our Facebook page first for the latest news on donations and items we are looking for.
Here at Motherwell we would to accept all your donations, however due to space we are unable to do so. We try and utilise as many of your donations as much as we can from donations of school uniforms for our hub to designer clothes for our Vinted page. Here is what items we do accept:
School uniforms, both primary and secondary schools, branded and non branded items. Please ensure items are not discoloured, all buttons are attached and zips in working order. Free from stains, have no holes and rips
School coats, appropriate for school wear (not fashion coats)
Football boots, astroturf trainers and shin pads
Toiletries including shampoo, conditioners, deodrants, sanitary products, hair bobbles, hair brushes etc
Vinted items – Designer items for our Vinted shop, dresses, shoes bags. We do not accept high street branded items
Baby items for our Baby Bank, items for children up to the age of 2 years of age, clothing, nappies, new baby items, moses baskets, travel cots, travel systems and lots more.
PLEASE NOTE WE DO NOT ACCEPT CAR SEATS OR MATTRESSES.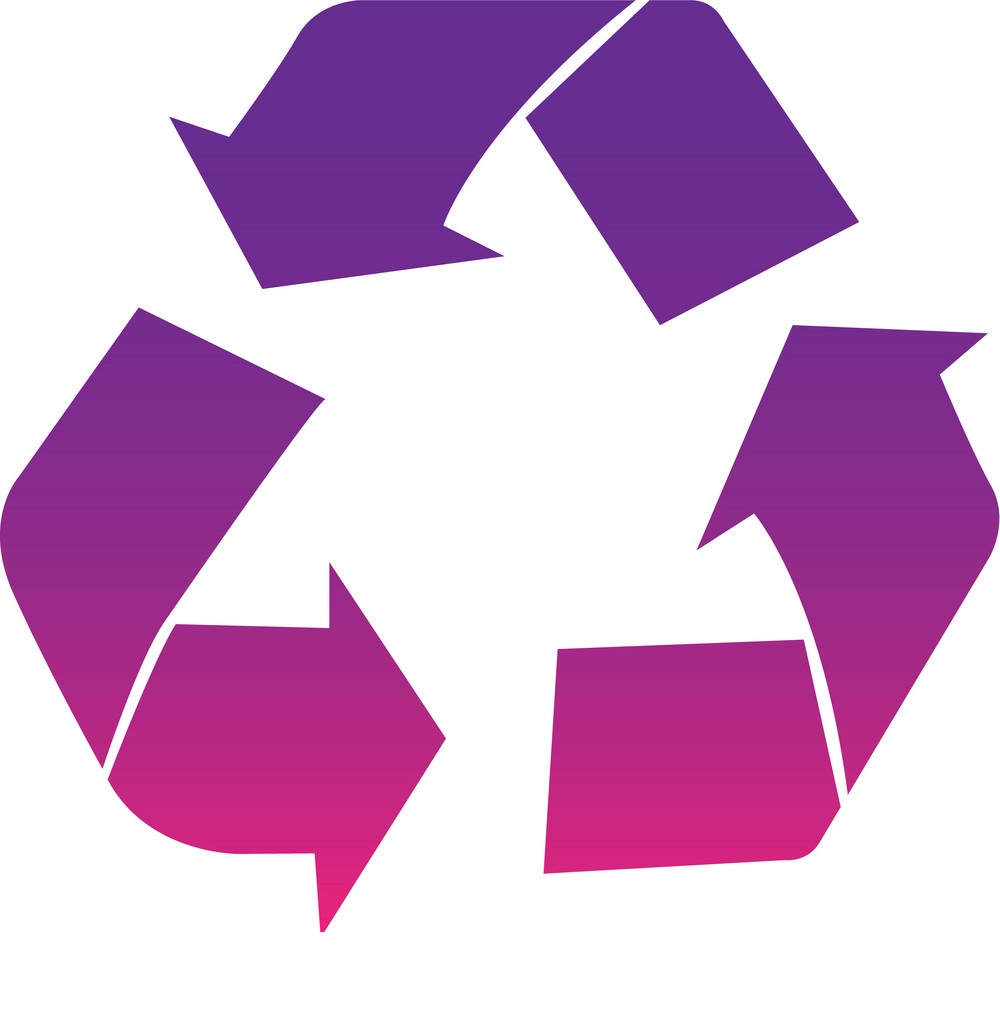 Edna's Laundrette - Winsford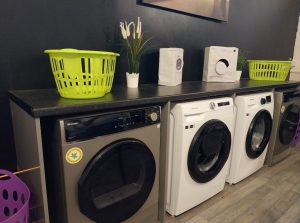 We are on count down now for the opening of Edna's Laundrette Winsford 
All washing machines are in, we would like to welcome Edna, Ailsa, Ada and Eva, our two washing machines and two dryers. 
To mark the opening of the laundrette we would like to invite the community to our event below: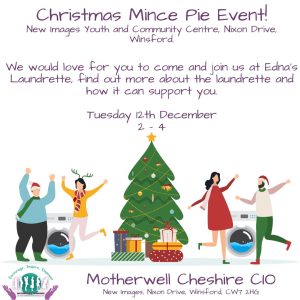 Going forward our washing machines will be available to book from the New Year.
For supporting our project we are excited to get this project open:
If you would like to know more about our laundrette, please email on EdnaLaundrette@motherwellcheshirecio.com.
It's time to bin your bra!
We are supporting Against Breast Cancer with their bra recycling scheme.
We are a donation point for this charity and takes your unwanted or unloved bras and through to their network of bra banks raises vital funds for pioneering breast cancer research.
Bra donations can be dropped off Monday to Thursday between the hours of 9 – 3. 
Address:
54 Beech Drive
Wistaston
Crewe
CW2 8RG
Telephone: 01606 557666
Email: motherwellhub@motherwellcheshirecio.com
Opening times:
Tuesday 12 – 2
Thursday 12 – 2
In 2022 we gave out school uniforms and clothing to more than
702 children!
Saving tonnes of good quality clothing from ending up in landfill.