Motherwell Community Share Hub
Update in our opening times!!
We are pleased to be able to offer the community extended opening times throughout summer to ensure they are able to get the school items they need.
Starting Monday 2nd August, the Community Share Hub will be open Monday through to Thursday until the end of the August.
If you have any questions, please contact us on
text on 07399 809766 or
email motherwellhub@motherwellcheshirecio.com.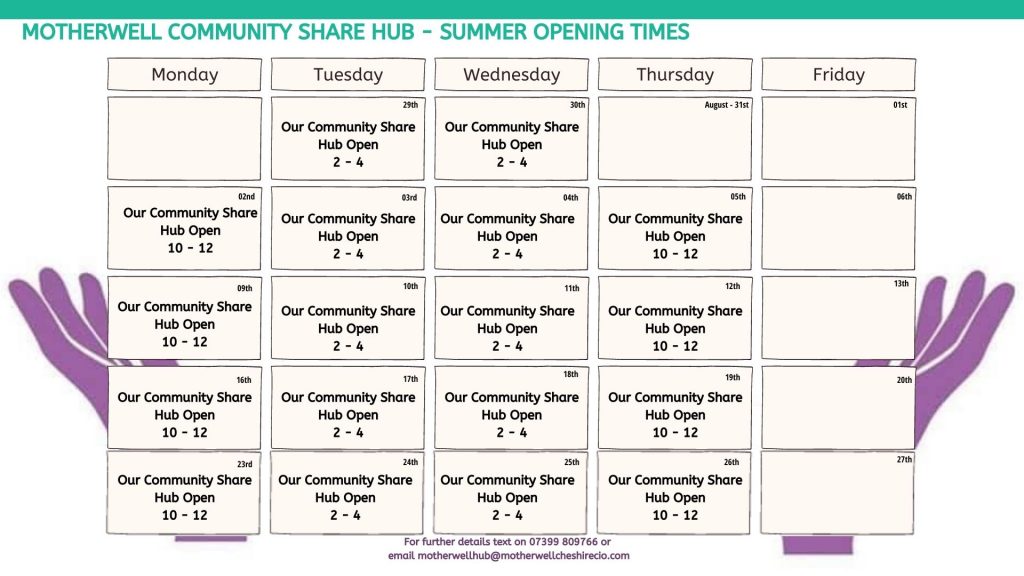 Our sustainable, accessible to all scheme provides a range of different services for families/parents to be, foster carers and looked after children. We can provide everything from our baby bank and maternity hampers through to school uniforms, stationery, and period poverty supplies. And in addition, we have our fancy dress, promo dress and community library rental service.   
Whatever you may need, we will try our best to help.
At Motherwell Cheshire, our vision is that women and girls are able to meet the challenges in their lives and access support, education and advocacy whenever they need it, in order to fulfil their potential. We want to set our community up for success whilst reducing inequalities; we want all our community to benefit from this vital service.
If you would like to donate any items, we would be so very grateful as we continue to run the scheme throughout the year.
The Hub is manned by volunteers and we are always looking for new people to join us.There are a variety of roles from sorting uniforms, to making up parcels and dealing with the public.  If you are interested please contact: AlisonH@motherwellcheshirecio.com for more information.
Motherwell Pass It On Babybank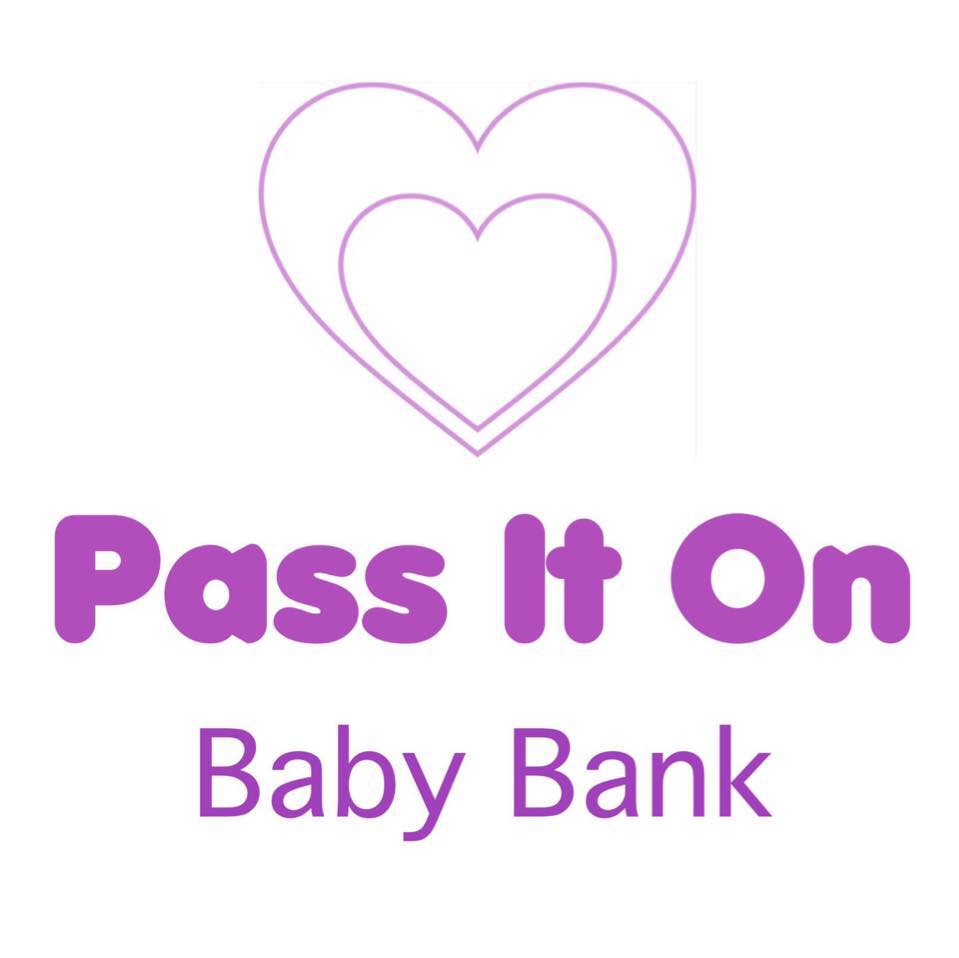 We also work out of Winsford providing good quality new and used items for families who are struggling or believe in recycling.The Pass It On Babybank  is here to be a place for the local community to give back to others and share there no longer needed baby items with others.:
We have:
Toiletries for mum/baby
Sanitary products
Baby hampers – Toiletries, Nappies, etc
Baby Clothes
Larger items: moses baskets, prams, pushchairs, bouncer seats, cot mobiles, play mats Etc
To order, please email:
Motherwellhub@motherwellcheshirecio.com
DONATIONS:
All of the above please drop at Winsford Community Grocery (old Job Centre), High Street, Winsford, CW7 2AS
We want to work closely with the local schools on this project, if you work in a school in Crewe or Nantwich or the local community providing support and feel like the families that attend would benefit from using the hub please get in touch.
Please supply your details below and we will be in contact with you;
Please click on the icon below to be taken to the Community Share Hub Facebook page.
54 Beech Drive
Wistaston
Crewe
CW2 8RG
Telephone: 07496 160939
Email: motherwellhub@motherwellcheshirecio.com
Opening times:
Tuesday 2 – 4
Wednesday 2 – 4
To Place an Order
You can order your uniforms through our request form (you can also click on the image to access).
Between August to December 2020 we have given out
helping to support families during such uncertain times.
Due to the current restrictions associated with Covid-19 unfortunately you will be unable to try on the uniform. 
Please wear a mask when collecting (unless you are exempt). Social distancing is in place.
Donations – Pay as You Feel
If you would like to make a donation we are accepting donations here or donations can be made on the day of collection. 
Suggested donations:
T-shirts, polo shirts, PE shorts and shirts – 50p
Summer dresses and shorts – £1
Skirts and trousers – £1 
Jumpers and cardigans – £1
Uniform with school logo – £2
Blazer – £3
Coat – £3
Hats, scarves and gloves – 50p each
Shoes – £2
Fancy dress, world book day and nativity items – £1 
Disclaimer: please click here for full details.
Can you donate any items?
We have been overwhelmed by the support of the local community, donating no longer needed items of school uniforms for others to use. We are still needing items of donations.
Do you have any branded school uniforms that you can donate?
School blazers? With or without a logo.
School branded jumpers or cardigans? 
Please contact us on motherwellhub@motherwellcheshirecio.com for further details.