Motherwell Community Share Hub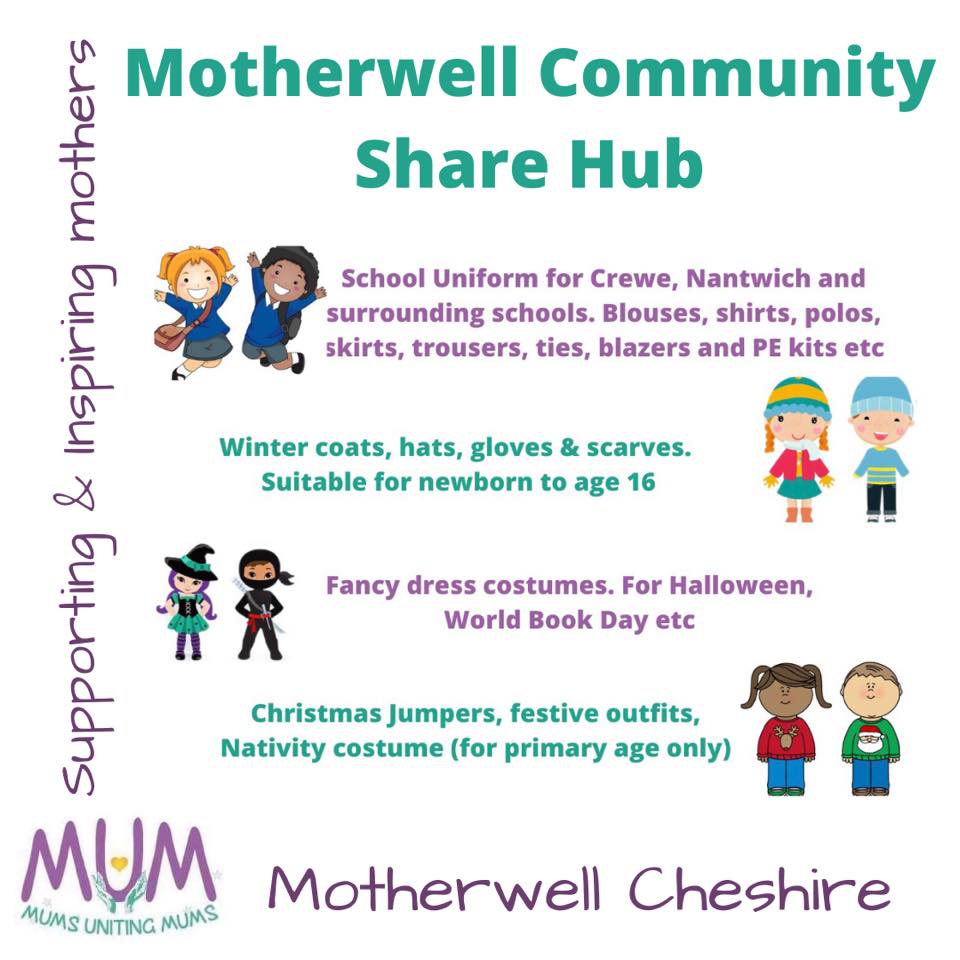 We are so excited to announce that our brand new Motherwell Community Share Hub is opening next Saturday 24th October at the YMCA in Crewe.
We have a variety of items available from school uniform to winter clothing. We will also be expanding into fancy dress costumes and Christmas Jumpers later in the year.
Motherwell works in the heart of the community, and we know that the pandemic has had a massive impact on local families who are already struggling to cover the rising cost of uniforms and winter clothing.
The uniform exchange from over the summer was so successful, that we managed to help 101 families in just 3 weeks.
The Community Hub allows us to help out local families who may be facing financial difficulties, and ensures that all children have access to comfortable and appropriate uniform so that they don't feel singled out when going to school. We also know how stressful this can be for parents and this can have a detrimental effect on their mental health. We hope to alleviate this with the Hub.
To Place an Order
You can order your uniforms through our request form (you can also click on the image to access).
Visit Us
You can come visit us at to the Hub which is at the YMCA, Gresty Road, Crewe.
Opening Hours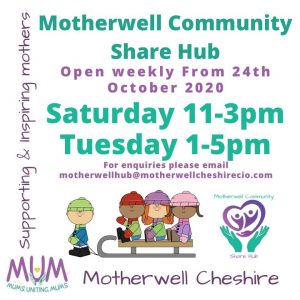 Due to the current restrictions associated with Covid-19 unfortunately you will be unable to try on the uniform. 
Please wear a mask when collecting (unless you are exempt). Social distancing is in place.
Donations – Pay as You Feel
If you would like to make a donation we are accepting donations here or donations can be made on the day of collection. 
Suggested donations:
🟣T-shirts, polo shirts, PE shorts and shirts – 50p
🟣Summer dresses and shorts – £1
🟣Skirts and trousers – £1 
🟣Jumpers and cardigans – £1
🟣Uniform with school logo – £2
🟣Blazer – £3
🟣Coat – £3
🟣Hats, scarves and gloves – 50p each
🟣Shoes – £2
🟣Fancy dress, world book day and nativity items – £1 
We would also like to thank the Steve Morgan Foundation for the funding for this project.

Disclaimer: please click here for full details.