…women and girls are able to meet the challenges in their lives and access support, education and advocacy whenever they need it, in order to fulfil their potential.
Our mission is to encourage, inspire and empower all women and girls to improve their mental health and challenge the associated stigma.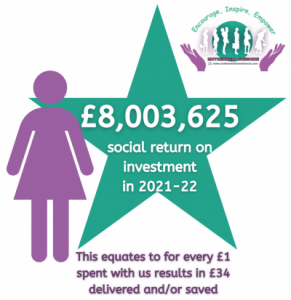 In 2021-22, every £1 spent with us resulted in £34 delivered and/or saved. The value we added was £8,003,625. This value is split between £2.3 million fiscal savings, £5.3 million economic value and £0.4 million in social value.
*Calculated using the figures provided within the national TOMS database and New Economy Manchester Unit Cost Database
Our Social Return on Investment
Below you will find a copy of our social return on investment report for April 2021 to March 2022
This report demonstrates the value that our services bring to the communities that we serve in terms of fiscal savings, social value and local economic value.
As you would expect, we monitor and evaluate the outputs, outcomes and impact of our work routinely. This information has been used within this report.
As a charity who specialise in mental health, Motherwell Cheshire are proud to be able to support our local community through our services.
It has been another busy quarter across all our projects. Take a look at our project highlights below which give a snapshot of our impact in the community.
Below are further project highlights from January – March 2022 and April – June 2022 which shows in more detail the activities that have taken place the support that has been offered and the positive impact this has brought.  
In late 2021 we completed a survey which was completed by local Cheshire women.
We analysed the feedback and set about adapting our services where we could and we can find the fist examples below.  
As an independent charity we are fortunate to be able to adapt our services to serve the needs of our local community.