Wellbeing Day Garden Party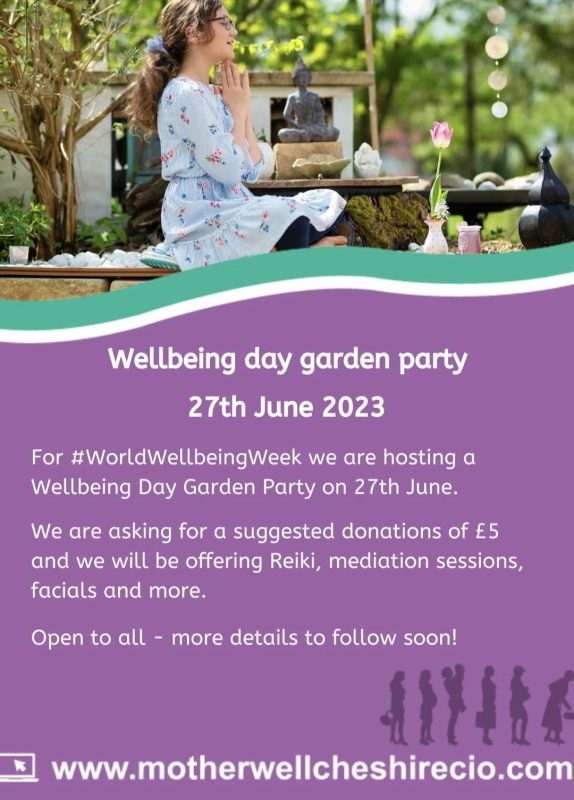 For #WorldWellbeingWeek we are hosting a Wellbeing Day Garden Party.
Treatments available on the day are detailed below.  For each treatment a £5.00 nonrefundable donation will be required on booking your place:
Reiki: 9.30-12
Meditation/Mindfulness: 12.30-1.30pm and 5.45-6.45
Tropic Hand Massage: 1.30-4pm
Holistic Healing Facial: 1.30-4pm
Donations can be paid by cash or card, by emailing wellbeing@motherwellcheshirecio.com
Reiki
Reiki is linked to a range of physical and emotional health benefits, including better sleep, improved mood, and pain relief in published studies. Research suggests Reiki helps the body return to a state of relaxation, which allows it to potentially better heal from damage brought on by stress, injury, or disease.
Meditation
There are many benefits to adopting a regular mindful meditation practice.
Meditation like Mindfulness can aid by lowering anxiety and depression, aid digestive problems, improving memory, promote good sleep, improve heart rate and produce a deep state of peace and wellbeing
Holistic Healing Facial
Enjoy a relaxing healing facial, and love the skin you're in.It will not only improve the appearance, condition and function of your skin, it will also provide overall relaxation and balance via the hands of a fully trained holistic practitioner.
Hand Massage:
Focusing on the hands, wrists, and forearms, creating a relaxing atmosphere to reduce anxiety,  tension and improve circulation. This type of massage may be used to relieve stress and provide pain relief.
The benefits of these treatments to health and mental wellbeing are well documented and here, at Motherwell, we promote self care as an important part of looking after your mental health.
Also taking place during the day is our regular CROCHET GROUP (10-12), which you are very welcome to join and the launch of our COMMUNITY GARDEN. Refreshments will be served all day in the garden. This is a great place to not only learn or hone a new skill but make new friendships.
We look forward to meeting you all on Tues 27th June for a day of relaxation and interesting conversations!!